The Biohair Beard Transplant in Turkey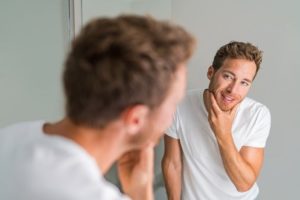 For men, the beard can play a very important role. Facial hairs are no fashion accessory, but certainly a style factor. This is why men with baldness issues are now more prone to have a beard or a hair transplant performed.
By doing so they seek to recover what is considered as the most iconic trait of masculinity. The beard can make a man's face look more masculine or mature, even with younger men. Further, it can help to cover some defects like, for example, acne or scars caused by injuries.
Also a very narrow chin, or other signs that might make one feel uncomfortable, can be compensated by growing a beard. Also, for specific types beards such as the stubble or the 3-day beard, one needs to have the properly desired effect.
The best technique to help the beard grow !
Not every man has naturally thick facial hair, as this often determined by genetics. Men with dark hair often also have stronger hair than blonde or red-haired men. Further, hormones can play a role and be responsible for rather poor beard growth.
Nevertheless, for all this there is always an antidote. Who wants to experiment with daily hormone injections, which have already been proven to be ineffective? One method which is guaranteed, requires little time spent, without the hope and waiting to be disappointed, is the beard transplant.
An affordable solution to restore facial hair
Today, having a beard transplant is not unusual any more. On the contrary, the high inquiry has led to the fact that more and more specialists for transplants have also turned to facial hair. Anyone who suffers from a lack of beard hair, can safely entrust himself into a specialist's care to get a fully-fledged beard restoration.
At our clinic in Istanbul, we have a highly-experienced specialists who deal with hair and beard transplants. Plus we can offer you a more favorable price compared with the UK. This due to lower personnel expenditure and cost of materials in Turkey.
We also offer complete packages, including lodging, transport and, if necessary, an interpreter. At Biohair we make sure that you don't have to worry about anything.
Beard transplants with the most modern technology "Made in Germany"
You don't have to compromise the quality or the specialist's assessment. At our hair loss facility in Istanbul, hair and beard transplants have been carried out successfully for many years now. We only work with the most modern technology made in Germany, ensuring that all devices are up to the highest standards. Our specialist works with a team that is highly competent and excellently trained in this field. His employees always have the latest knowledge, which is guaranteed by the advanced trainings that they regularly attend.
You will only be here for a few hours in our clinic. The beard hair transplant takes place with local anaesthetic, specific to the area of treatment and shortly after you can return again to your hotel and enjoy the rest of your stay in Istanbul. Moreover, we will answer any question you have, at any time with the greatest pleasure. Simply call our English speaking hotline, contact us by email or WhatsApp: We are always here for you.
Bio Hair Clinic, for a successful beard transplant in Turkey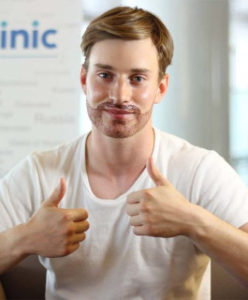 Anyone interested in a beard or hair transplant should definitely take a look at the offers of Bio Hair Clinic in Istanbul. They are as cheap as they are trustworthy. In collaboration with Istinye Clinic in Istanbul, known for hair transplantation, Bio Hair Clinic provides services that are tailored to the individual needs of the patient. 
Bio Hair Clinic offers our customers security right from the start: a translator team ensure at every moment that no language problems arise. Of course, this service is already included in our offers for the beard hair transplant in Turkey.
No matter if you need an appointment with the clinic in Istanbul or detailed information on treatment, a translator will ensure that all your questions are answered at any time. And even during your treatment in Turkey, you have 24-hour access to multilingual interpreters. 
The services that Bio Hair Clinic provides for a successfull hair transplant in Turkey are thought with the patient in mind. The range from the non-binding consultation including cost estimate, through the planning of appointments, to the care when the treatment is completed.
Even after treatment, our teams are always available. Price includes the accommodation in a hotel, the transfer between the hotel and the clinic as well as all costs of the transplantation. Not forgetting the corresponding pre- and post-examinations. All you have to worry about is to look for a suitable flight to Istanbul.
What are the steps for a beard transplant with biohair ?
The beard implant procedure is performed on an outpatient basis. In general, the duration of the operation varies according to the number of grafts to be transplanted. Typically the majority of our beard transplant are done in about six hours of operation. Before the surgery, the part of the face concerned is treated under local anesthesia. Our techniques guarantees a pleasant and pain-free procedure for the patient. After the intervention you will have to wait at least three months before finally being able to benefit fully from the result.
At Biohair we use the now proven FUE hair transplant technique for our surgeries. This also include beard transplant as beard and hair follicles possess similar structures. The FUE method is the best way to finally grow a full beard or recover bald patches.
The beard transplant is the most effective solution !
A successful beard surgery provides many benefits for those with baldness issues. Most importantly because of the positive impact on the well being. Especially since the beard is an important symbol of masculinity
Further information regarding follicular unit transplant can be found on our website. Should you have any questions or doubts, please do not hesitate to contact Bio Hair Clinic. All those will be answered immediately by our english speaking specialists that will always be happy to help you.
FREE HAIR ANALYSIS
---
Use the hair calculator to get information about the required amount of graft. The process is completely free and without any obligations.