Hair Transplant for Women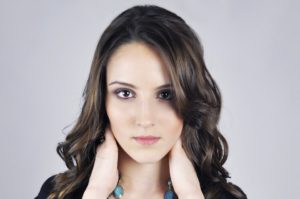 We all take our hair for granted until it starts to thin or even disappear completely. But men aren't the only ones experiencing hair loss. Baldness issues are unfortunately also a concern for the opposite sex.
Women do suffer from alopecia as well and are looking for female hair loss treatment. If you unfortunately are on this boat, there is a solution : the hair transplant for women.
When is a hair surgery worth considering?
Not all hair loss is related to hormonal levels. Hair loss can be caused by an accident or injuries. Combustion can also lead to lasting hair loss. In most  cases, one can obtain good results with a hair transplant. However, it is not the only possibility available, and you should evaluate your optimal treatment. In order to do so, you must first determine the cause of the alopecia.
The female pattern for baldness
Hair loss is, in most cases, linked to a genetic history. Women, unlike men, who are affected by this issue rarely turn completely bald. Unfortunately the female pattern for hair loss remains clearly visible, as measured by the Salvin or Ludwig scales.
In the case of an androgenetic alopecia, especially with women, the hair begins with thinning on the top of the head. The hair increasingly thins out, until finally the part of the scalp located on the head's crown becomes fully visible.
Female Hair loss caused by hormone imbalance
A hormone called Dihydrotestosterone (DHT) is usually responsible for hair loss. Men as well as for women are concerned by this, although it happens more often among men. For women, the effects are more subtle. One's hair will thin as a result, and bald areas may appear in the region of the hair part.
This kind of hair loss happens slowly and is usually only noticed when approximately half of the hair has fallen out. This hair will not regrow and your hair will look thinner. You can change the circumstances with hormone therapy, or you might consider a hair transplant for women. We can help you making this decision by providing a professional hair analysis.
Not all types of hair loss are related to hormone disorders
As previously mentioned, not all hair loss is related to hormonal levels. Hair loss can be caused by an accident or injuries. Combustion can also lead to lasting hair loss. In most cases, one can obtain good results with a hair surgery. However, it is not the only possibility available, and you should evaluate your optimal treatment.
A temporary hair loss can also be caused by illness or stress. Those cases can be treated by simple means such as stress reduction or medication. But if the hair follicles are damaged, a hair surgery is the only effective female hair loss treatment.
Frontal hair loss reduction
For women who want to correct a forehead that is too high, a hair restoration is also a solution. Not every woman is naturally blessed with full hair on her forehead and a beautiful, straight hairline. Many women finds that having a forehead that is too high disturbing and not attractive.
Often they also suffer psychologically from that issue. Thanks to our female hair loss treatment, the hairline can be pulled down thus reducing the forehead. Thanks to modern methods, like the FUE hair transplant for women the hair can once again grow naturally.
The hair transplant for women with the FUE method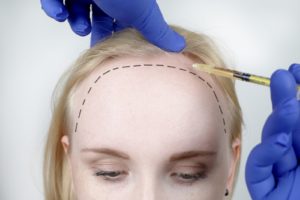 This modern method of hair transplant surgery is virtually painless. The result is very natural both in the donor and in the transplant area. FUE is the abbreviation for Follicular Unit Extraction and is a major improvement of the older FUT technique. In this type of procedure hair roots are extracted with a special needle and implanted in the hairless area.
After the hair surgery, you only have red spots on the scalp for a few days. However, these disappear naturally. On the scalp remain microscopic scars that are barely perceptible to the naked eye. With the FUE method up to 3000 hair root groups can be moved.
With this female hair loss treatment, the hair does not have to be shortened before removal. The hair is gently removed in full length and grafted on the bare spot. By the absence of a shave, you can wear your haircut as well as the hair length as before the treatment.
The hair used usually fall out after a few weeks again. The hair root undergoes a rest phase also called the telogen phase. After about 3 months, the hair root regenerates a strong new hair. The final result of a hair transplant for women is reached after about 8 to 12 months.
The advantages of the FUE method at a glance
Natural result
Painless treatment methods
In a few hours, women will get thicker hair
Hair transplants in Turkey are financially affordable
Women do not have to shave off the hair
Various modern methods in competent clinics
Full hair after a maximum of one year after treatment
Increased self-esteem after hair transplantation
Why do we use the FUE technique for all our female hair loss treatments ?
Hair transplant for women are no longer a taboo topic these days. A few years ago, with the FUT techniques, entire strips of skin and hair had to be removed from the back of the head. These were then planted on the bald spots on the forehead.
Nowadays with the FUE method, individual hair follicles are usually removed from the donor area and implanted in the canals at the hairline. There are hardly any scars from modern methods because the incisions' size are much smaller.
This ensures a natural and even hair growth. For outsiders, there are no visible signs of the hair surgery. Especially since the shaving at the back of the head is eliminated and there is no seam.
Biohair clinic, for a successful hair transplant for women in Turkey
The female hair loss treatment is uncomplicated. Mainly because the FUE method guarantees the patient as little discomfort as possible. With this method, we can extract and transplant up to 3000 hair root groups, without having to cut your hair.
You will see how wonderful it is not to have to lose existing hair with this method. There is no reason to shave the scalp. On the contrary, within a few hours, you will have splendid, healthy looking, thick hair again. And all this with no undesirable, visible scars, as can happen with other methods.
That's not all, with Biohairclinic you will also benefit from our innovative Biografts and Icegrafts techniques. Those combine years of developpement for a faster regrowth of your grafts.
Off course our prices also includes the Hotel, transfer, PRP treatment, care products and more. Do you want more informations regarding our hair transplants solutions in Turkey ? So please don't hesitate to contact us on our hotline or by e-mail and arrange an appointment for a personal consultation.
FREE HAIR ANALYSIS
---
Use the hair calculator to get information about the required amount of graft. The process is completely free and without any obligations.